When visiting a retrospective of "Britain's" best-selling painter (as ever, the British are very good at claiming for their own successful Irishmen), it's best to take someone who is if not an expert on the man himself then at least interested enough to have read multiple biographies. Fortunately, I am in possession of just such an expert, and as luck would have it, it's also her birthday.
First of all, blessed with a large amount of space, the Royal Academy avoids the issues I've experienced at the National Gallery recently with being crammed in, trying to move between works and get a good view of them without having to breathe down someone's neck or have your neck breathed down in turn. With no bottlenecks and minimal path-crossing, the RA crushing gallery-goers together and produced a more thoughtful, reflective experience than at the National's Dürer exhibition.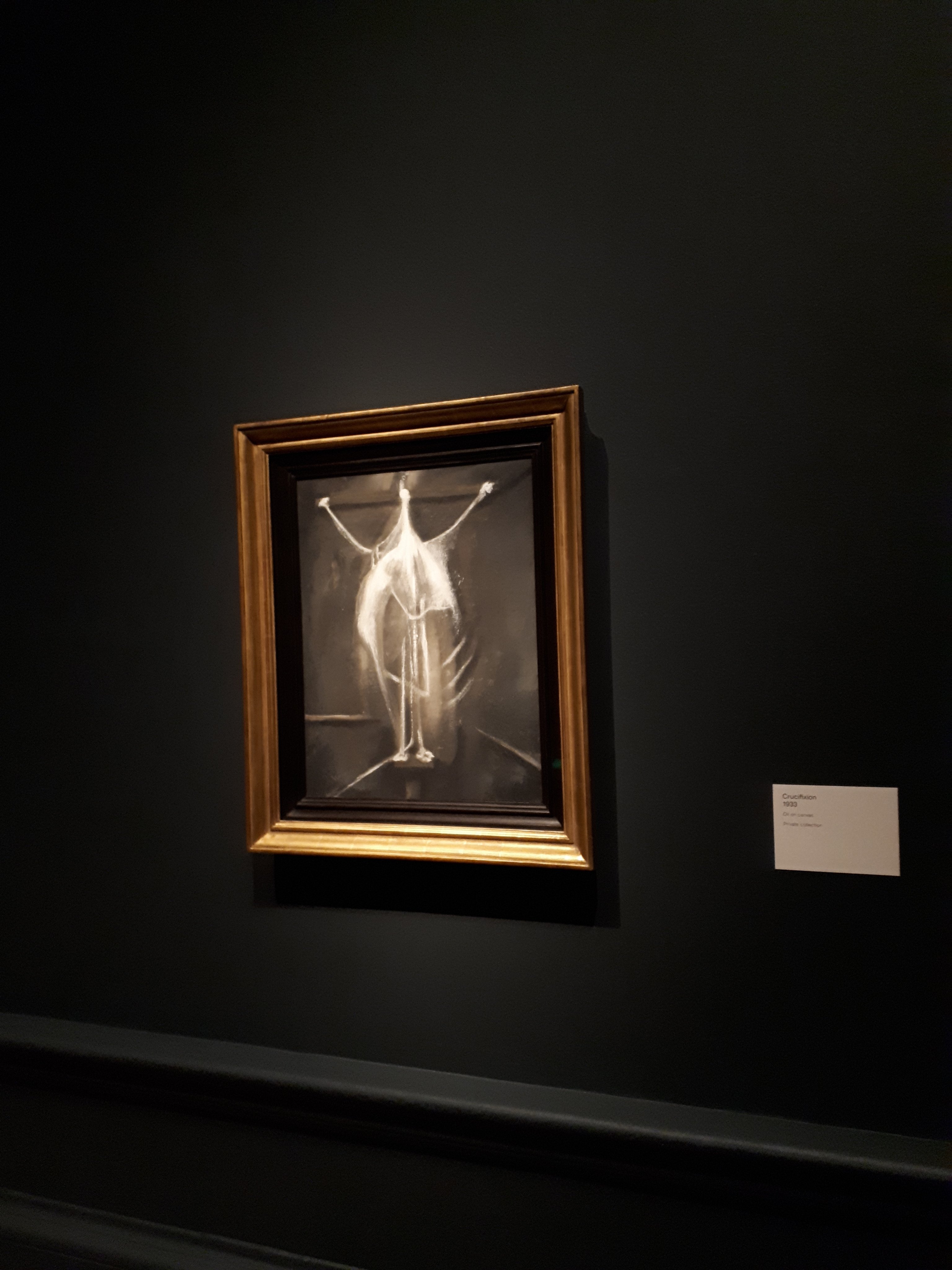 The works are given space to breathe by themselves.
Bacon's reference to photographic works rather than classical paintings or live figures was one of the central themes of the commentary, but my companion had a different assessment:
"One thing they've left out," she said, "was that he just wasn't very good at drawing human figures to begin with, and he hated that."
In addition to recurring motifs, many of which expose a background he never made much effort to hide ("You can kick the boy out of Ireland," we joked, "but you can't stop him from obsessing over images of a pope."), the procession of images also demonstrated his clear colour preferences, making it all the more shocking when he deviated from them, as in Owls: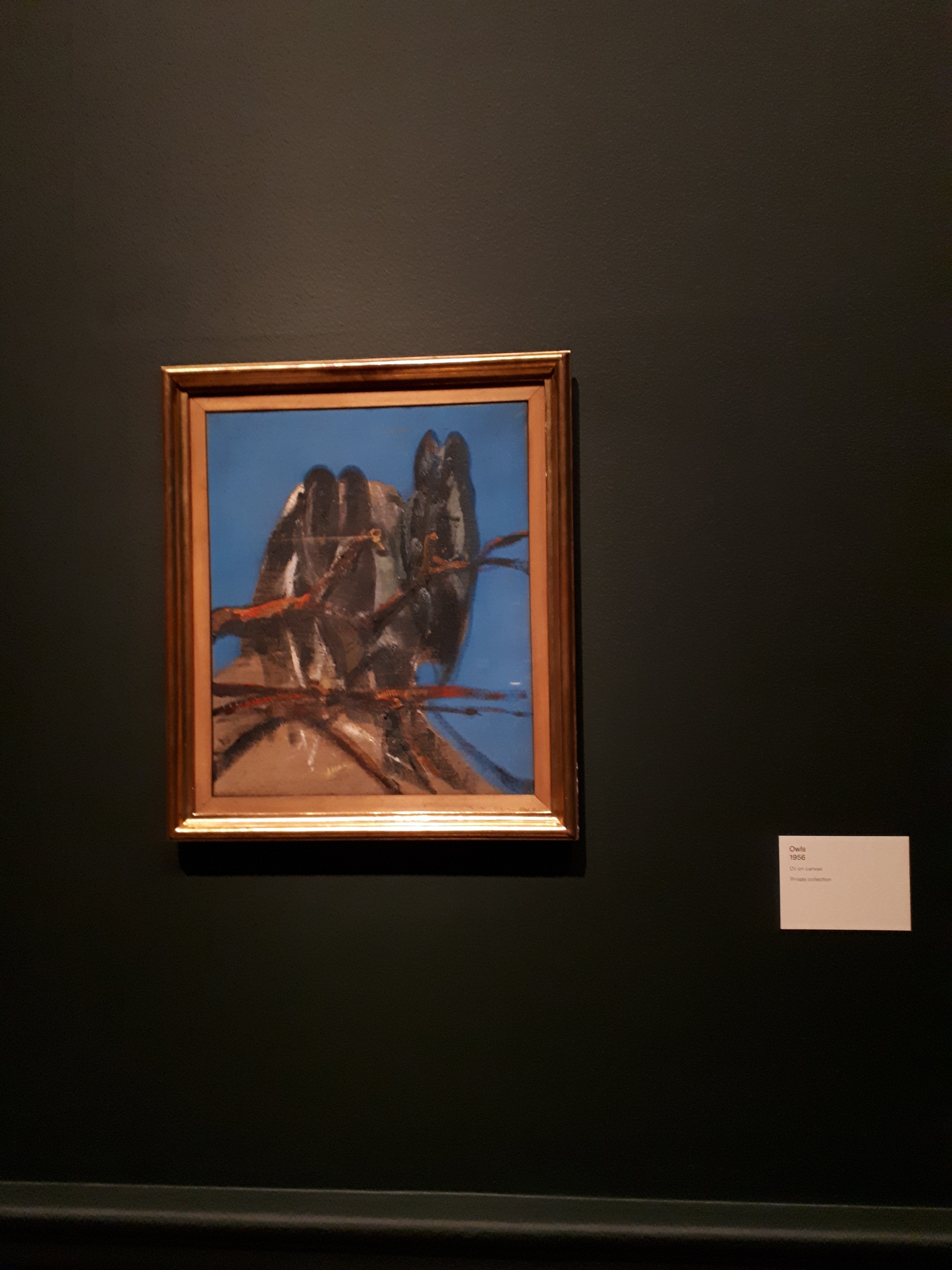 Animals, his lovers, and poses from Muybridge's photographic works, the source materials for some of which were reproduced beside a few of the paintings for comparison, made up the majority of his subjects. And for a man who claimed to despise symbolism and narrative in his work, he stumbled into it often enough. While my companion noted that he may have been drawing on Muybridge in the belief that the photographic works constituted "empty references" – that is, they were the first of their kind and had no meaning beyond acting as records – in Bacon's ceaseless reproductions of the Velazquez portrait or in his use of a Narcissian type, he drew on sources removed from his avowed interest in provoking immediate honest emotion.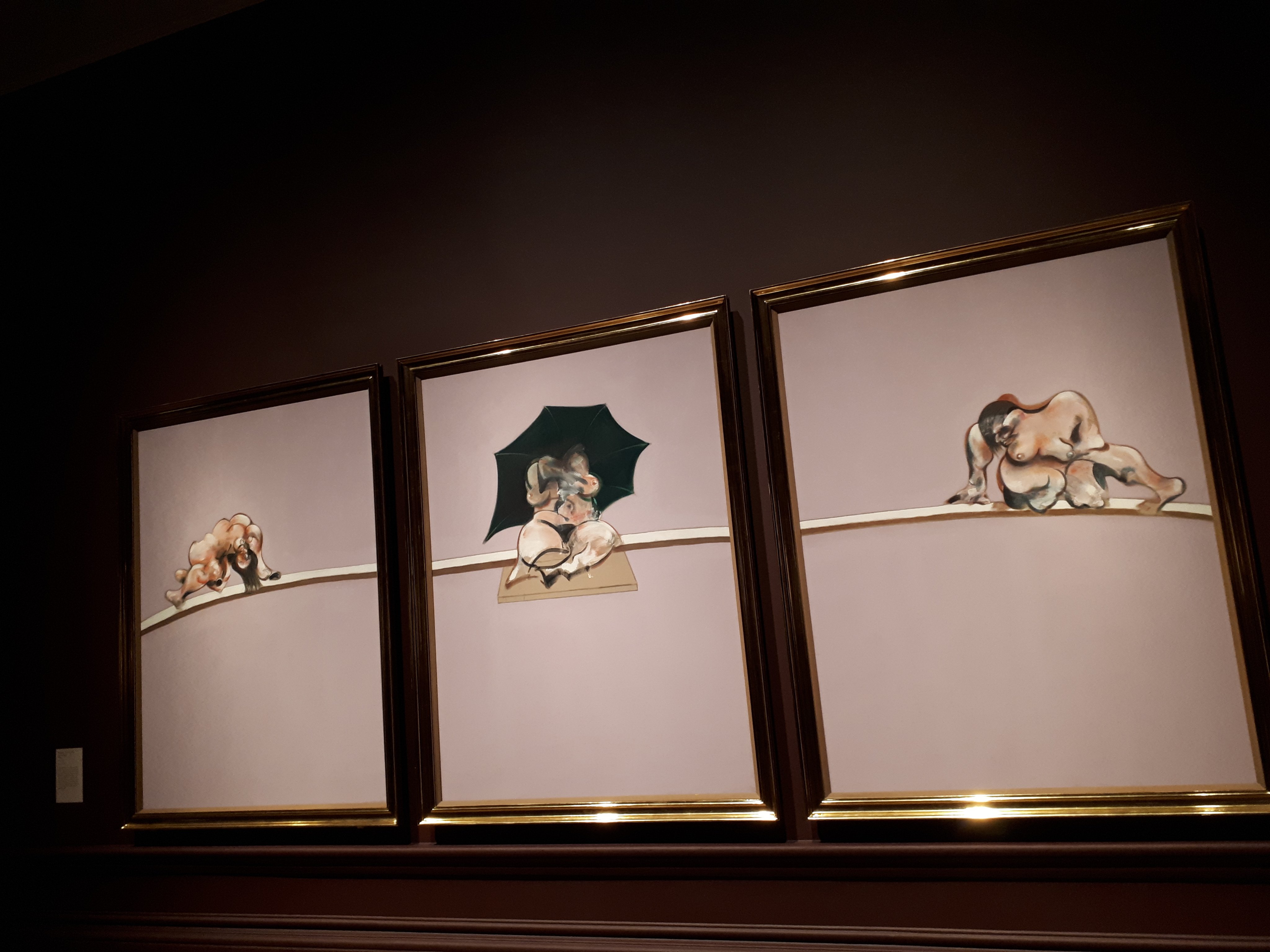 The arrangement of monumental triptyches together gives an unparalleled and indeed unprecedented opportunity to find other symbolism: for example, in this triptych of the furies (a source of fascination for Bacon as a subject), black void doorways and a sense of departure are mirrored diagonally across the room by a series of fully open black doorways behind the corpse of George Dwyer, underscored by the apparent transgression of the boundary in the central image.
As ever, my companion was on hand with additional information:
"This fails to mention that when they'd found [Dwyer] dead, they didn't tell anyone for ages because they wanted the gallery opening to go ahead. That was more important than him dying."
The room of triptyches is preceded by the collation of three images "not intended" as a triptych, those of the bullfight, presented effectively and evocatively in the round in a vestibule room that is entirely suited to the purpose, echoing the bullfight ring in the collected paintings.
Bulls and the bullfight return again on the far side of the death of Dwyer, in the final room: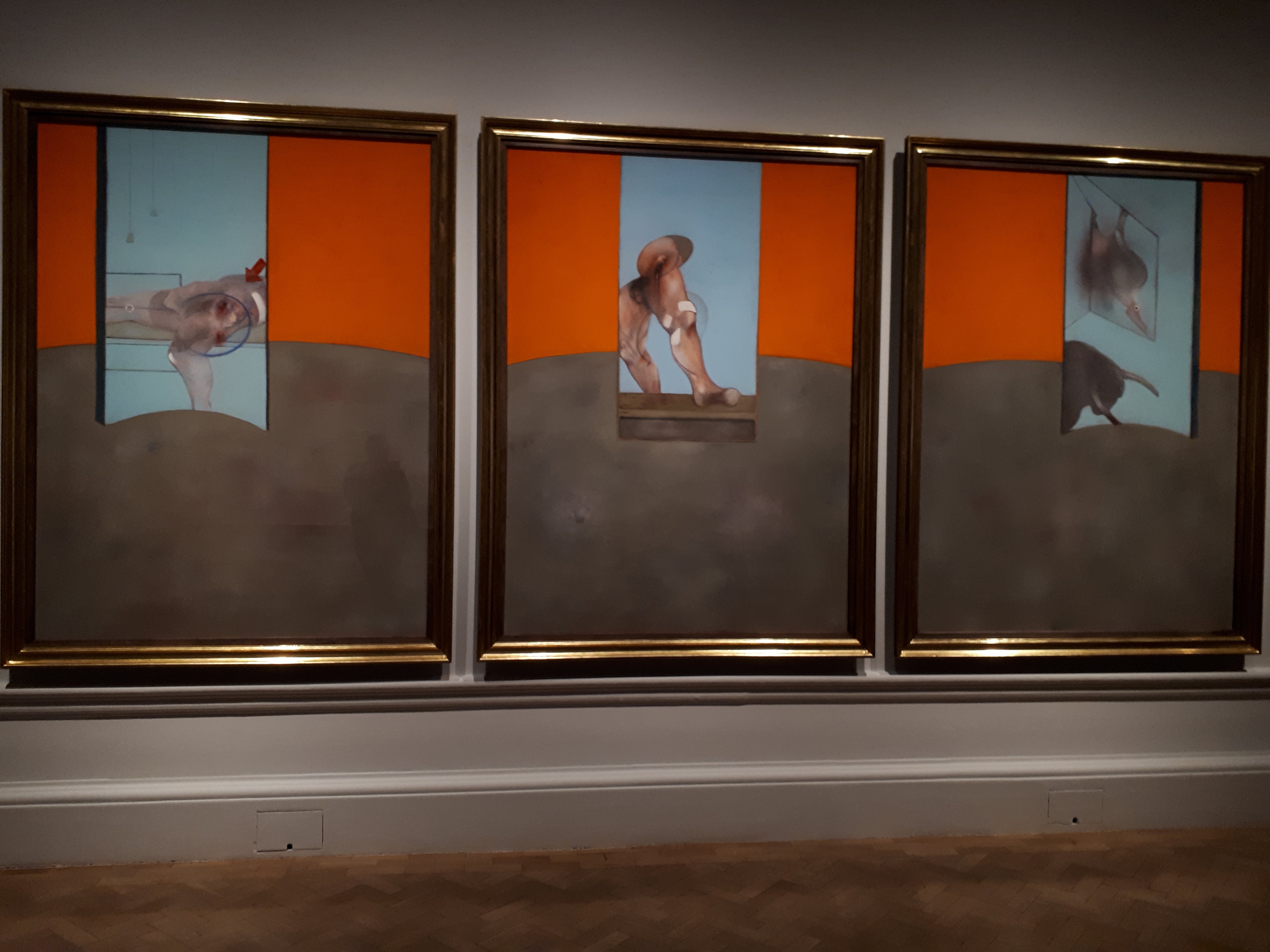 In an image that drew laughter from my companion: "He really did just point out that wound with a red arrow in case anyone could miss it."
Bacon's final work, painted in dust, sees the virile, violent bull – the Minotaur in the centre of a perfectly transparent maze of a perfectly torturous man – pass through the black door.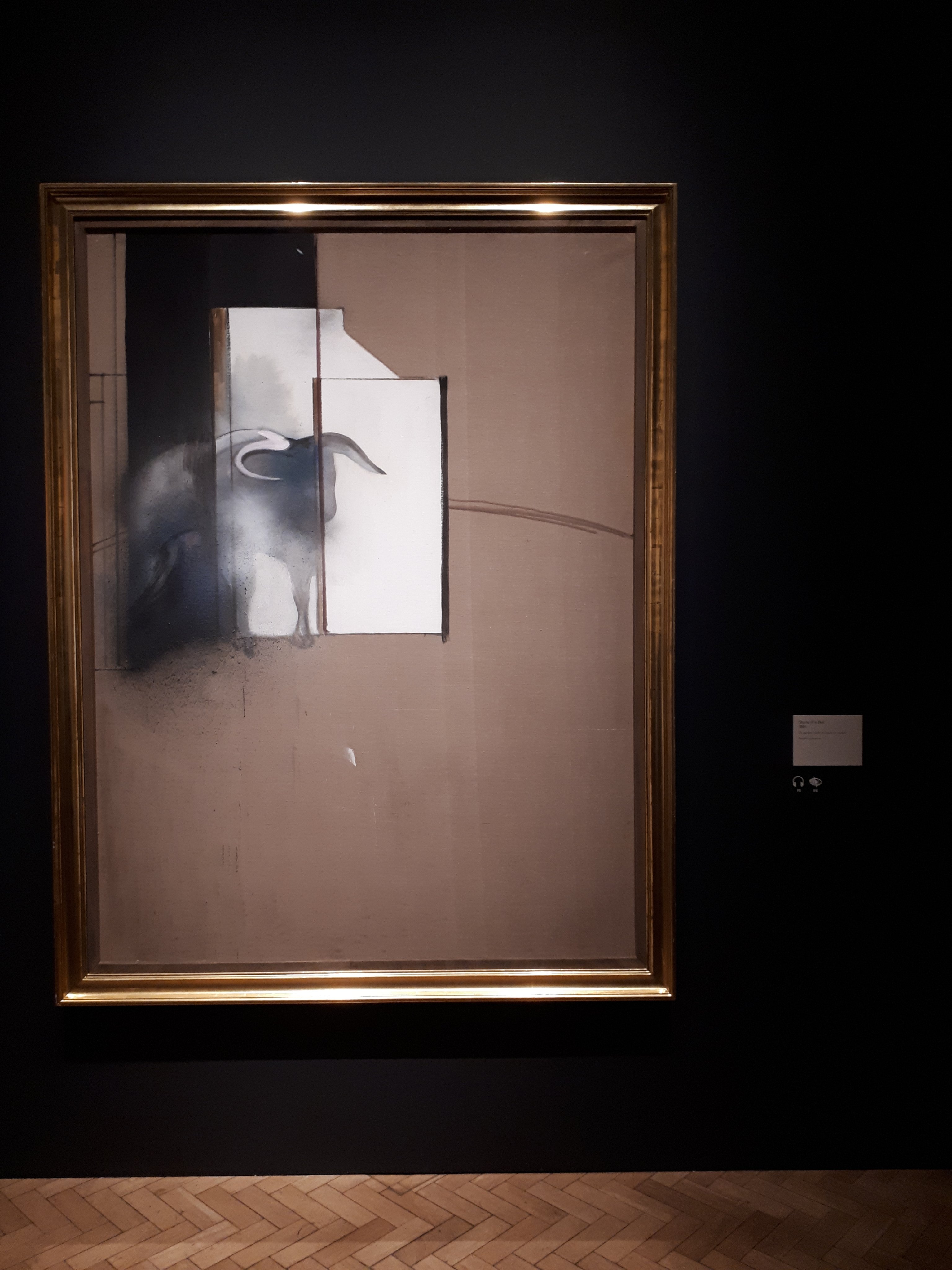 Final words will be left to my expert companion:
"Francis really was only interested in violence, and he came at it from every possible angle. Especially the erotic, but really every angle there was: emotional, physical, artistic."
Francis Bacon: Man and Beast at the Royal Academy runs until April 17th 2022.